Control Your Roomba via Your iPhone
One of the innovations introduced first by Neato's BotVac Connected and more recently by iRobot's Roomba 980 is the ability to control the robotic vacuum via smartphone. The app turns your smartphone into a remote to drive your vacuum, schedule it, or get notifications. It works both through your local Wifi network, and remotely through the Internet.
UPDATE: Latest Roomba are Wifi-enabled. So, you can control your vacuum robot with the iPhone and Android apps provided by its manufacturer iRobot. Check them out!

But, this cool feature is not restricted to only to the latest robots. Thanks to Thinking Cleaner by a startup located in the Netherlands, you can now upgrade your old Roomba. Forget the old IR remote that requires to have the robot in your line of sight. Simply replace the faceplate of your Roomba with the new one from Thinking Cleaner, setup the Wifi, and voilà! You can control your vacuum cleaner from your iOS or Android smartphone using Think Cleaner's app (see video below). You can use also a web browser on other devices (e.g. Laptop running Windows, Linux or Mac OS X).
The web app and the smartphone apps offer the same features. The dashboard shows the battery status and the next scheduled cleaning time. Schedules are available even on Roomba's with no timer option, and you can set up to 4 schedules per day! You can trigger the max clean function if you want to clean large areas. You can also get push notifications from your Roomba to inform you about changes in its status (e.g. going back to dock). All of these features are available even if you are away from home through the Net. Last, the app allows you to control multiple Roombas. This is handy if you have for instance one vacuum per floor or different homes or offices.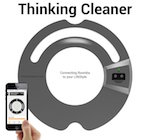 Buy Thinking Cleaner Wifi adapter for Roomba from Amazon
Thinking Cleaner is currently available for less than $100 for iRobot Roomba 500 and 600 only. The faceplate has the same thickness as the original iRobot one, except for a nicely designed bump. So, you barely noticed once installed. Except maybe the green LED nicely located on top of the logo. The company has also plans to make a version of their product for Roomba 700 and 800 series.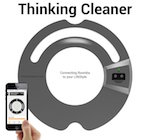 Buy Thinking Cleaner Wifi adapter for Roomba from Amazon