Ready to Use Virtualized ROS Groovy
UPDATE: You might want to use a more recent version of ROS: Hydro Medusa (released on September 2013). See the corresponding post: Virtual Machine with ROS Hydro Medusa Pre-Installed. Install procedure unchanged.
---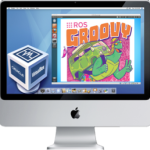 ROS Groovy was released on December the 31st, 2012. For those of you who just want to quickly experiment with it, we provide a ready to use virtual machine. It features ROS Groovy Galapagos installed on Ubunutu 12.04.1 LTS (Precise).
The ROS Groovy virtual machine comes in a single file .ova of approx. 3.3GB. You can launch it using VirtualBox, the very same way as we explained for virtualized ROS Fuerte. The .ova file complies with the Open Virtualization Format (OVF), thus it can be used with other virtualization tools. People reported successful use of the Fuerte's virtual machine under VmWare and Parallels.
We set Unbuntu to automatically log in the unique admin user:
login: viki
password: viki
It's a reference to the V.I.K.I character from the I, Robot movie :-)
We first experimented with the latest Ubuntu: version 12.10. But, we decided to roll back to the Ubuntu 12.04. Indeed, with 12.04, the virtual machine is smaller and a bit faster. Besides 12.04 is an LTS version, which means Long-Term Support. The Ubuntu community will be maintaining it for a while. Indeed, LTS versions receive support fir 5 years. For the record, Ubuntu 12.04 was released on April 2012.