Best Robot Mops: An Alternative to Roomba for Hardwood, Tile And Stone
Robot mops are robots dedicated to home cleaning. While vacuum robots suck dirt, robot mops can do wet mopping, damp sweeping, or dry sweeping. They use water and floor cleaners to tackle dirt and stains in your kitchen and bathrooms.
Why Robot Mops are a Good Alternative to Vacuum Robots?
Robotic vacuum cleaners do a great job cleaning any house or apartment. Most robot owners report being satisfied with their purchase since their robotic friend takes care of most of the cleaning chore.
Still, vacuum robots can be criticized for their noise. The suction turbine and the rotating brushes make annoyingly loud noise. It's about 70dB, the equivalent of freeway traffic noise level. This prevents from listening to music or concentrating on a book, let alone sleeping. Fortunately, modern vacuum robots can be scheduled to do the cleaning while you are out for work. However, if you spilled something in the kitchen at night while the children are sleeping, or while your family is watching their favorite TV show, you cannot rely on your robotic buddy.
Another criticism of robotic vacuums is that they are only… well vacuums. They do collect dust, hair and debris. But, bacteria survive. Spots and stains also remain on the floor.
Braava Best Robot Mops by iRobot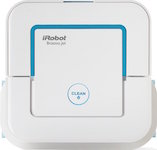 Buy from Amazon
Braava jet
The best robotic mop is Braava. It is made by iRobot, the very same maker of the famous Roomba. Braava carries a pad for sweeping the floor. That's what you need for hardwood, tiles and stone floors. Braava is also very quiet. Its noise level is just 35 dB. Less than the noise level in a library!
There exist 2 variants of iRobot robotic mop: Braava jet and Braava 380t. Braava jet is smaller and can access narrow spaces such as around toilets (see Video 1 below). But, it is meant for cleaning only small areas up to 250 square feet (23 square meters). Braava 380t is made for cleaning multiple rooms and large spaces. It can sweep up to 1,000 square feet (92 square meters) in a single cycle (see Video 2 below).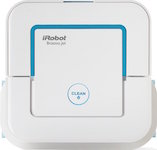 Buy from Amazon
Braava jet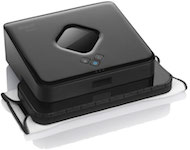 Buy from Amazon
iRobot Braava 380t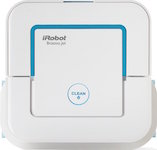 Buy from Amazon
Braava jet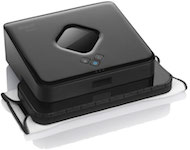 Buy from Amazon
iRobot Braava 380t