Roomba i7+ the First iRobot Vacuum Robot to Empty its Own Dustbin
Roomba i7+ is the latest vacuum robot by iRobot. It is meant to become the new best Roomba. The i7+ builds up on the success of the high-end Roomba 900 series. It also features a major innovation to surpass competition: self-cleaning. Indeed, the Roomba i7+ is a vacuum robot that automatically empties its own dirt. A must for home automation!
Overview of the Self-Cleaning Roomba i7+
The i7+ is the first Roomba to take care of the cleaning from start to finish. It comes with a big docking station. Bigger than the ones of older Roomba. This new charging dock includes a vacuum pump. It sucks the dirt from the i7+ bin into a disposable bag.
The bag can hold up to 30 bins of dirt, dust and hair. Once set, you can forget it for weeks. Actually, if you schedule your Roomba i7+ to run once a day, you'll have to replace the dirt bag only once a month or so.
The short video below shows the Roomba's automatic dirt disposal in action. It also gives an overview of most prominent features of the i7+.
Roomba i7+ Learns and Remembers Your Rooms
As with the Roomba 900 series, the i7+ embeds a camera to map of your home. This is enabled using a so called VSLAM algorithm, short for Visual Simultaneous Localization and Mapping. The Roomba builds a a map based on images from the camera. It also localizes itself in your home based on the same images.
The whole point of making a map is to improve and speed up cleaning. No more random unnatural cleaning. Instead, the vacuum robot creates visual landmarks to keep track of where it's been and where it has yet to clean. This is very useful in large homes. If the robot runs out of battery while cleaning, it goes back to its dock. Once recharged, it does resume cleaning at the exact spot where it has stopped.
Amazon Alexa, Google Assistant, and More
Beside the above new features, the Roomba i7+ comes with all what made previous Roomba a success. We list here the most prominent ones:
Voice command using Amazon Alexa and Google Assistant
Dual tangle free brushes break down dirt into smaller parts easier to suck.
Dirt sensor for detecting and spending more time cleaning dirtiest spots
Works both on carpets and hard floors
High suction power, 10x compared to Roomba 600 series
You can find more details about Roomba i7+ in our dedicated post. Beside an analysis of its pros and cons, we also discuss how it compares to its little brother Roomba i7.
We leave you with the video below. It provides a detailed tour of the Roomba i7+ and its operation. Also, checkout our detailed comparison with other Roomba, so you can choose the one that fits your home and your budget.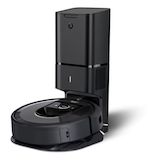 Buy from Amazon
Roomba i7+