10 Christmas Gift Ideas All About Robots
Christmas is getting close and its time to look for gift ideas. If you are looking for a gift for a robot fan, this post is for you. It lists robotic items for all budgets and all ages.
---
Robot Movies for All Family ($5-$15)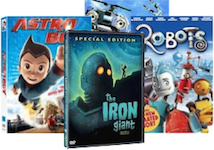 Many movies involve robots or even have robots as main characters. We have made a selection with the all time best ones that are enjoyable by adults and children of all ages. Some are animation movies such as AstroBoy, and Wall-E. Others are traditional movies with actual actors, mecatronics and special effects such as the great Bicentennial Man, and Short Circuit.
---
Pluto Manga Comics Series ($10-$12)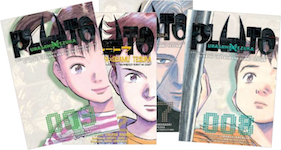 Buy from Amazon
Pluto Manga Comics
This series of 8 volumes is about a distant future where sentient humanoid robots pass for human. Someone or something is out to destroy the seven greatest robots of the world including the famous AstroBoy. Europol's top detective Gesicht is assigned to investigate these mysterious robot serial murders—the only catch is that he himself is one of the seven targets.
---
Robot Slippers with Sound (~$50)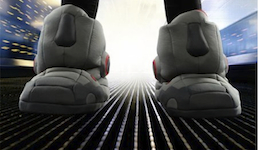 Buy from Amazon
Robot Slippers with Sound
These giant robot slippers do not only have a cool look, but they also make robotic sound effects when you walk! True fun. You can however turn off the sound for a quiet mode. They are available for adults only in a one size fits all.
---
Anki Drive Autonomous Racing Cars (~$150)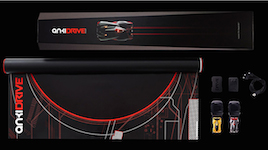 Buy from Amazon
Anki Drive Starter Kit
If you are looking for a gift that mixes robotics and car racing, Anki Drive is for you. This excellent car racing game was built by a team of PhDs in robotics while doing their research on self-driving cars at Carnegie Mellon University. The little cars are autonomous since there is an AI that ensures that controls them and ensures they stay on track. The user decides on the speed, the lane and other maneuvers using a smartphone or a tablet (iOs or Android). The user also is able to change the settings of the car, and upgrade it with new capacities such more energy or different types of weapons. The starter kit includes 2 cars and a track. There are more cars, tracks and accessories, so you can extend the game later.
---
iRobot Braava 380t Floor Mopping Robot ($250)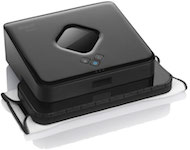 Buy from Amazon
iRobot Braava 380t
The Braava is a good and cheap alternative to vacuum robots. Made, by the robotic vacuum leader iRobot, Braava cleans by actually mopping the floor. It offers two modes: dry mopping (up to 1000 square feet in a single cleaning cycle) or damp mopping (up to 350 square feet). When dry mopping, Braava moves in straight lines using dry cleaning cloths to pick up dust, dirt and hair. For damp mopping, Braava uses a special back-and-forth mopping action and damp cleaning cloths to lift surface dirt and grime off your floors. In both modes, the Braava relies on its NorthStar navigation system that works like an indoor GPS. Thus, the Braava keeps track of where it has been and where it needs to go while avoiding stairs, area rugs and raised transitions to carpets. Beside the price, and the damp cleaning mode, the low-level of noise makes the Braava very compelling compared to vacuum cleaners. It can operate at night or while you work or watch TV.
---
Parrot Bebop Drone (~$300)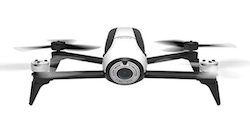 Buy from Amazon
Parrot Bebop Drone
The Parrot's Bebop Drone is a compact and lightweight quadcopter drone (1.1 lbs). The built-in wide-angle camera shoots full HD 1080P videos and 14Mpx photos. Footage can be captured in RAW, JPEG and DNG format. I love the 3-axis digital stabilization system. It ensures smooth and stable videos regardless of the drone's movements. The battery has a high capacity. Its 2700mAh allow for up to 25 min of fun. The Bebop Drone pack is relatively cheap (about $300). For the price, you've got FPV (First Person View) googles and a long range remote. All you need for immersive experience. Another cool thing with Parrot drones is that you can join the their online community to share experience and tips.
---
Lego Mindstorms ($350)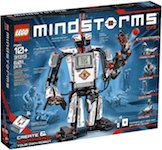 Buy from Amazon
Lego Mindstorms
The EV3 is the latest version of the famous Lego Mindstorms robotics kit. Many today professional roboticists were introduced to robotics at a young age with the previous editions of the Mindstorms. With the EV3, Lego goes a step further and enhances the computing and communication capabilities and introduces new parts and sensors. Teens and adults love it and use it to make many impressive projects. No soldering iron or screw drivers are needed. Building robots is just as easy as assembling bricks. Even the software is made out of bricks. Those are actually graphical bricks that you assemble to define your robot behavior.
---
Neato Botvac 80 Robotic Vacuum Cleaner (~$400)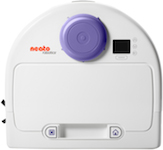 Buy from Amazon
Neato Botvac 80
There are plenty of robotic vacuums out there. But, we recommend the Neato Botvac series and more specifically the Botvac 80. A unique characteristic of all Neato vacuums is that they embed a laser. It makes a huge difference in cleaning behavior as compared to all other vacuums. Competitors including the market leader Roomba, randomly bounce around. They do statistical cleaning, meaning that they are not 100% sure to cover a room, although in practice they are nearly there. The Neato has a more systematic approach. It scans the room to build a map of the area to clean. Based on the map, it moves around in a way that is closer to what a human actually do with a traditional vacuum. The laser has a secondary interesting consequence. The vacuum avoids furnitures without bumping into them.
---
Kubi Telepresence Robotic Stand ($600)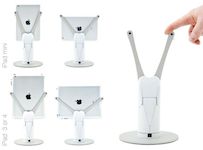 Buy from Amazon
Kubi Telepresence Robotic Stand
When using teleconference tools such as Skype, a common frustration is caused by the person speaking, or something interesting happening outside the camera's view field. The Kubi allow remedy this by allowing the viewer adjust remotely the camera's orientation. Actually, the Kubi does not have a camera. It is instead a robotic stand where you can put your tablet. It works with all kinds of tablets iPad, Android. It's unique folding gripper allows to adapt to different tablet sizes and different orientations. The tablet displays the face of the remote person that can move to look around. So, you really have the impression that the person is at the same place a you.
---
DJI Phatom 4 Pro High-End Drone (~$1500)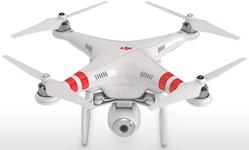 Buy from Amazon
DJI Phantom Drone
One of the best hobby drones if not THE best is the DJI Phatom. It has a rock solid frame and much more interesting specs compared to the Parrot Drone. With its 5200mAh LiPo Battery, the Phantom 2 can fly non-stop for 30min. The flying speed tops at 15m/s. The Phantom 2 can also carry a payload that goes up to 300g. Actually, it is often used to carry a stabilized high quality camera that allows for flicker free videos, definitely close to professional footage. DJI makes various versions of the Phantom 2 that differ in their level of equipment. Since, the Phantom 2 is easily upgradable, you can buy the drone with only its remote control alone (approx. $600) and buy other accessories later on, or reuse a GoPro cam if you already have one. But, if you want the full set up at once, you should go for the Vision series ($1000 to $1300 approx.). The high end Phantom 2 Vision+ comes with a 14 Megapixels camera attached to a 3-axis stabilization gimbal to ensure flicker free footage. Besides, the axis is motorized so you can tilt the camera up or down, while keeping the Phantom hovering or moving steadily resulting into movie like effects. The Phantom 2 Vision series is also shipped with a Wifi access point which is basically a relay that allows operating the drone at a wider range: from 400m up to 800m in an open area.