3 Best Educational Robots and Robotic Kits for 2018
Robotic toys are not only fun to play, they are also great to teach kids STEM. Indeed, robots mix mechanics, electronics, and programming. But, there are plenty of robot toys out there. For example, if you search for "educational robot" on Amazon, you get 1500+ results. This is why we decided to make this selection of best educational robots and robotic kits for 2017. It will help you find THE gift to unleash the creativity of your children.
---
Age 5 and Up: Dash Robot by Wonder Workshop (~$150)
Dash is the ideal first educational robot for your kids. It's unusual design is robust and very compeling. The head includes a camera with LEDs around, and can move horizontally (left-right) and vertically (up-down). It looks like a funny one eyed monster from the "Monsters, Inc" Disney-Pixar movie.
The head can be extended using the 2 included building brick connectors. So, kids can snap on LEGO blocks to transform Dash into anything.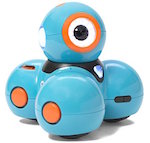 Buy from Amazon
Dash Robot
The lower body is made of 3 connected spheres. They include motors, wheels and a bunch of sensors and LEDs. So, the Dash can freely roam around, and sense objects or other robots. The motors are responsive and powerful. So, the Dash can truck over changes in terrain, rugs and clothing.
The robot also includes a speaker and 3 microphones. This allows for voice interaction. Children can record and replay sounds. Dash also has pre-recorded funny sounds that are played on demand. Children can program and combine them to head and body movements, to make cool animations.
The programming can be done via one of the many rich apps using a smartphone or a tablet. A glimse of what can be done is described in the videos below.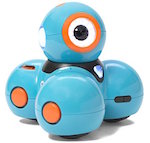 Buy from Amazon
Dash Robot
---
Age 8 and Up: Cozmo by Anki (~$180)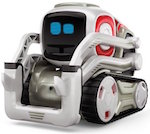 Buy from Amazon
Cozmo
Cozmo is the current number one educational robotic toys for both children and grown-ups. This palm-sized robot is as expressive (sounds, face, and body movements) as Wall-E from the Disney-Pixar movie. You can use pre-programmed features, and play built-in games based on the included smartphone and tablet apps. Cozmo can also be used to learn programming. Its visual programming interface targets begginers inspired by MIT's Scratch environment. Making programs is very simple. It's merly a matter of assembling a set of predefined graphical bricks. The program can then be run directly on Cozmo. Thanks to this is quick feedback loop, children quickly see the outcome of their programs. So, they can easily spot and fix bugs.
Last, Cozmo can also be programmed using a more convential textual coding language. It allows learning advanced programming technics. Even experienced developers can have fun!
Find out more about Cozmo in our dedicated review..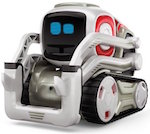 Buy from Amazon
Cozmo
---
Age 10 and Up: Mindstorms EV3 Robot Kit by LEGO (~$350)
LEGO Mindstorms is one of the best robotic kits on the market. Its renowed quality is built on solid foundations. Indeed, it is the result of a collaboration between LEGO and the MIT, that dates back to 1988. Since the first version (released in 1998!), the Mindstorms has been refined over the years. The EV3 is actually the third iteration. It allows building multiple robots based on detailed instructions provided by LEGO. Learning programming is made fun via games and challenges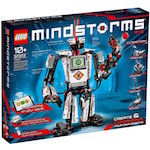 Buy from Amazon
LEGO Mindstorms EV3
The Mindstorms EV3 set includes 550+ of the familiar easy to assemble LEGO Technic elements. The robotic specific parts include 3 servo motors and 3 sensors (color sensor, redesigned touch sensor, infrared sensor), as well as an infra-red remote controller brick. The brain of the EV3 is a large brick with an ARM 9 processor. It can be connected to other devices via a USB port. It also provides wireless connectivity via Bluetooth and WiFi.
Programming the Mindostorm EV3 can be done directly on the brain brick. The program is made of icons that are displayed on the black and white screen of the brick. The Mindstorm can also be programmed with an icon-based drag-and-drop programming interface on a PC, a Mac, an iOS device (iPhone, iPad) or an Android one. LEGO provides videos and resources to show how to make programs by assembling graphical bricks.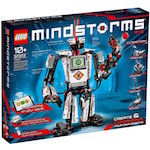 Buy from Amazon
LEGO Mindstorms EV3