Pet Care Robots Feed, Clean, and Entertain Dogs & Cats
Whether you decide to visit friends or family for dinner, or you travel for few days, you need plan ahead for someone to take care of your pet. Fortunately, there are devices that can make your life easier, and allow you make impromptus decisions to go out or have a short stay away from home. They also simply free you from daily chores, while increasing your pet happiness. In the remainder of this post, we present a selection of best robotic solutions to take care of your pets while you are away.
Automatic Pet Feeder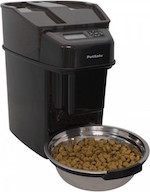 Buy from Amazon
Simply Feed
Fish owners enjoy since long ago, food dispensers that attach to fish tanks. They release a programmable amount of feed based on a schedule defined by the user. The same idea has been transposed to feed cats and dogs.
One of the best pet automatic feeders is the "Simply Feed" by PetSafe (see Video 1 below). It accommodates both dry and semi-dry food. It can serve up to 12 meals in a stainless steel bowl. Its parts are dishwasher-safe to ensure easy cleaning. There is also a smaller variant, that is cheaper, but serves only 5 meals. The feeder uses a conveyor belt to dispense food. You can customize your pet's meals with flexible portions from 1/8 cup to 4 cups. The "Slow Feed" option dispenses scheduled meals slowly over a 15-minute period to help prevent gulping, vomiting, and bloat.
Automatic Pet Waterer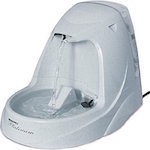 Buy from Amazon
Drinkwell Pet Fountain
A traditional low-tech waterer is basically a bottle that refills a bowl once the water level goes below some threshold. Water flow is typically controlled using a pure mechanical solution involving a rubber valve and a spring. While it provides water for several days in a row without needing a refill, water remains stagnant and might get dirty. And pets dislike it, since they prefer flowing fresh water. This is why many cats love drinking from faucets and showers. Dogs will drink from toilet bowls and puddles if their water bowl is dirty.
Automatic waterers avoid these issues by continuously circulating and filtering the water. Our favorite is the "Drinkwell Pet Fountain" made of dishwasher safe BPA free plastic (see Video 2 below). As suggested by its name, this automatic waterer has a fountain that aerates the water. It also, includes a built-in reservoir that increases capacity and requires less refilling. Last, its replaceable carbon fiber filter removes bad tastes and odors, and hence encourages your pet to hydrate, which helps prevent urinary and kidney diseases.
Self-Cleaning Cat Litter Box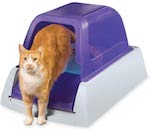 Buy from Amazon
ScoopFre Litter Box
With normal litter boxes, cat owners need to scoop daily. Self-cleaning litter boxes relieves you from dealing with the poop and bad odors for weeks in a row. You don't have to see, touch, or smell messy waste. In this review, we'll discuss the two best automated litter boxes: ScoopFree and Litter-Robot.
ScoopFree has a rake that sweeps solid waste to a front covered compartment 20 minutes after your cat uses the litter box (see Video 3 below). Safety sensors detect if your cat re-enters the box and the 20 minutes timer will reset. One specificity of ScoopFree is that is uses disposable litter trays with special a crystal that is more effective at reducing odor than clay or clumping litters. In average you need to replace the litter tray every 20 to 30 days for a single adult cat.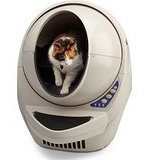 Buy from Amazon
Litter-Robot
Litter-Robot is a self-cleaning litter box that accommodates with any clumping litter. Its spheric chamber rotates slowly to separate waste from clean litter (see Video 4 below). By relying on gravity, the efficient process drops poop into a bag inside a large-capacity waste drawer. A carbon fiber filter absorbs the odors, while a weight sensor detects the presence of the cat. The cleaning process automatically starts 7 minutes after the cat leaves. All you have to do is to refill litter once in a while, and replace the waste bag when an indicator light signals that the waste drawer is full.
ScoopFree costs less than $130. But, you need to buy litter tray refills which cost $44 each. Assuming that you have one cat and replace the tray monthly, you'll end up spending $658 the first year, including the price of the ScoopFree litter box. Then, expect to pay at least an extra $528 yearly on litter trays. The high-end Litter-Robot is the most sensible choice with a price tag of $500.
Game Console for Dogs
While you are at work or out for shopping, sport or visiting friends, your pet left back home feels lonely. CleverPet is a game console for dogs that addresses this issue. The product resembles an automated feeder. It engages dogs through a series of games involving lights, sounds and interaction through three touch pads (see Video 5). The games are first very simple to just attract the animal. Once any touch pad is pressed, the automated device delivers some treats. The dog's interest and curiosity will quickly build. Getting more treats requires learning solving simple puzzles. Once a skill is learned the system adapts and provides new slightly more challenging games. New games update automatically on the CleverPet Hub through WiFi.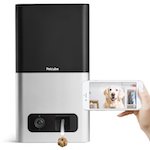 Buy from Amazon
Petcube
Unfortunately, CleverPet is not available anymore. The next best thing is Petcube. This a treat dispenser that embeds a camera and a two way audio. It allows you to watch your furry friend while you are away. The camera supports night vision, so you can see even in the dark. You can also hear you pet and talk to it. The interaction can go as far as tossing a treat. All from your smartphone (see Video 6 below). I like also the motion and sound alerts. You get a notification on your mobile for instance when your dog barks. Last, an interesting feature of Petcube is its extensibility. You can add extra modules to have cameras in different rooms, and also a laser toy to play with your cat.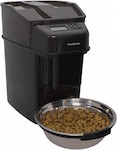 Buy from Amazon
Simply Feed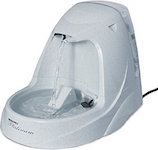 Buy from Amazon
Drinkwell Pet Fountain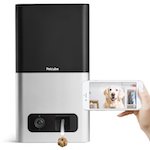 Buy from Amazon
Pet Cube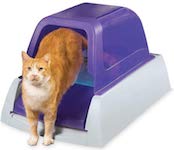 Buy from Amazon
ScoopFre Litter Box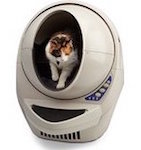 Buy from Amazon
Litter-Robot