Roomba i7+ vs Neato D7: Cleaning Performance on Carpets & Hardwood Floors
Neato Robotics and iRobot are currently two major brands of robotic vacuums. In this post, we review their flagship products, namely the Roomba i7+ and the Neato Botvac D7 Connected. We focus here on how good they are at cleaning different kinds of floors.
There are 3 major features that impact a vacuum robot cleaning performance. The first one is obviously suction power. The two other ones are the edge cleaning solution, and the ability to adapt cleaning to the type of floor and the amount of dirt.
Suction Power: The Higher the Better
Both vacuum robots have powerful vacuum pumps enabling high suction. The Roomba i7+ suction power is 1700Pa. Although this is a pretty high value for a vacuum robot, it is topped by the Neato. Indeed, the Neato D7 maximum suction power is 2000 Pa. This is the second highest value we have encountered so far. So, this first round goes to the Neato D7 Connected.
Edge Cleaning: Flat Front + Side Brush for Better Reach
Dust and hair often accumulate near the walls or at the corners. However, vacuum robots suction power is not enough to the edges. This is why all good vacuum robots provide a solution for edge cleaning. The most common one is a side brush. Both vacuums in this review do have one. But, the Roomba i7 has a larger side brush with compensate for the round shape.
The Neato D7 does better at edge cleaning. It has a smaller side brush because of its D shape hallmark of vacuum robots by Neato Robotics. The flat front allows the main brush to get very close to walls and corners as shown in the Figure below. So, again the Neato D7 Connected is this round winner.
Adaptive Cleaning: Better Performance on Different Floors
These smart vacuum robots are capable to automatically adjust their settings for better cleaning results. Both Roomba i7+ and Neato D7 can detect transitions from hard floors to carpets. They ramp up their suction power on carpets to ensure deep cleaning.
Roomba i7+ is the winner for this round, since it has two more extra features for adaptive cleaning. Depending on the cleaned floor, it adjusts the height of its main brush system. On slick surfaces the main brushes are positioned at their lower position. While on thick carpets the Roomba raises its brushes.
The last interesting feature of the Roomba i7+ is called Dirt Detect by iRobot. This is a sensor that enables Roomba to detect dirtiest areas. Roomba then spends more time cleaning such spots for better cleaning results.
Benchmarks & Recommendations
The next Video compares cleaning performance of Neato D7 and Roomba i7+. Both vacuum robots were set to clean a carpet and hardwood floor. Different kinds of debris such as hair, cereals, and sand were spread on the floor to evaluate pick up capabilities.
Benchmarking Neato D7 vs Roomba i7+
The Best on Carpets
Roomba i7+ and Neato D7 are great at cleaning carpets. They both cleanup everything from pet hair, to debris fine and large. However, Roomba scores higher because it is the only one to provides a dirt sensor. Roomba i7+ is also the only one to adjust the height of its main brush to better clean thick carpets.
Roomba i7+
Best on Caprets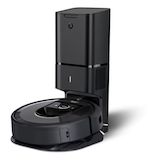 Buy Roomba i7+ from Amazon
The Best on Hardwood
On hardwood, Neato is the better option thanks to his higher suction power. Indeed, air flow is more important on hard floors. Besides, since the Neato has a wider main brush, it tends to pick up more dirt on each pass. So, the neato is faster at cleaning.
Neato D7
Best on Hardwood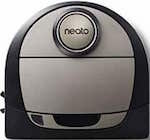 Buy Neato D7 from Amazon
The Best Overall
To sum up, Roomba i7+ achieves better results on carpets. But, Neato D7 is the best on hard floors. Having said that, both vacuum robot do a great job as shown by the next Table. Their cleaning performance satisfy all users in all homes.
The other factor to take into account is the price. And for this the Neato D7 is a clear winner. It is several hundred bucks cheaper than the Roomba i7+. This is why we recommend the Neato Botvac D7 Connected.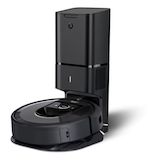 Buy Roomba i7+ from Amazon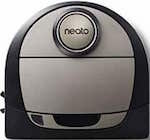 Buy Neato D7 from Amazon