Which Roomba to Buy in 2020? – Part 5: Summary & Recommendations
This is the 5th and final part of our series of posts to help you Choose the Roomba that Best Fit Your Home in 2019. We provide you here with our conclusions, and recommendations, based on a thorough analysis of 15 Roomba.
In our reviews, we have relied on 375 data points as well as the prices of each Roomba we have analyzed. It turns out that best trade-offs between performance and price depend on your home and your habits.
The best Roomba overall is the Roomba i7+. It picks up all dirt, pet hair, and allergens on all types of floors, including carpets and hardwood. But, above all, it will truly put your home cleaning on auto-pilot thanks to many unique features.
Once you have defined the per-room cleaning schedule, you can forget it for several weeks. The i7+ will start cleaning on its own. In large homes, it can recharge and resume until cleaning all the floor. And once done, Roomba i7+ goes back to its dock, empties its dustbin, and recharges until the next cleaning session. 
Roomba i7+
Best Overall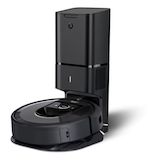 Buy Roomba i7+ from Amazon
Choose a Roomba Ready for Self-Cleaning
The main drawback of Roomba i7+ is its price. The next best option is the Roomba i7. It is more affordable, and has the exact same characteristics as the i7+. The only difference is the docking station. The one shipped with Roomba i7 is for recharge only. But, you can buy later the self-cleaning docking station.
Roomba i7
Ready for Self-Cleaning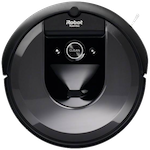 Buy Roomba i7
from Amazon
- Best Value for Carpets & Allergy
Roomba e5 manages to achieve very good performance cleaning not only thick carpets, but other floors too. Moreover, it is effective at fighting allergy, thanks to its high performance filter.
Roomba e5
Best Value for Carpets & Allergy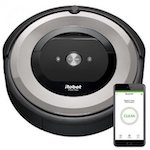 Buy Roomba e5
from Amazon
- Best Value for Hardwood
Roomba 690 is among cheapest connected vacuum robots. However, it is a good affordable pick for a small home with hardwood or other slick flooring  such as tiles  or linoleum. Its suction power combined with counter rotating main brushes will do a good job. And, thanks to the advanced dirt sensor, Roomba 690 will spend more time cleaning dirtiest areas.
Roomba 690
Best Value for Hardwood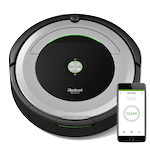 Buy Roomba 690 from Amazon
- Best Value for Dog & Cat Owners
Roomba 890 is mid-range Roomba that we recommend for pet owners living in a small home. It does a good job cleaning hair even on carpets. Besides, it minimizes maintenance thanks to its tangle-free brushes, and large dustbin.
Roomba 890
Best Value for Pet Owners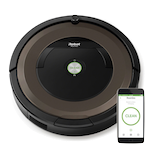 Buy Roomba 890 from Amazon
- Best Value for Large Homes
Roomba 960 is the most affordable high-end Roomba. It achieves excellent performance cleaning all kinds of floors. It is also good for pet owners, since it has a decent dustbin and tangle-free brushes. Last, it can deal manage cleaning large homes, thanks to its mapping capabilities. It optimizes battery usage using systematic navigation. It is also capable to recharge its battery and continue cleaning where it left.
Roomba 960
Best Value for Large Homes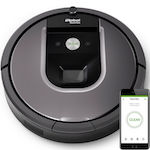 Buy Roomba 960 from Amazon
Many features impact cleaning performance. We compare how good are Roomba at cleaning different kinds of floors: hardwood, tiles, linoleum, or carpets. Read more
Dog and cat owners need a vacuum robot that is good at picking up pet hair. But, don't overlook maintenance. Check out which Roomba is best for pet owners. Read more
We've compared 15 Roomba for cleaning large areas. Best ones definitely have a long lasting battery. They also embed sensors and algorithms for smart navigation. Read more
The easiest Roomba to use, are WiFi enabled. You can control them from your couch using a smartphone app. You can also rely on voice command. Read more