Which Roomba to Buy in 2020? – Part 2: Minimum Maintenance is a Must for Pet Owners
This is the 2nd part of our series of posts to help you Choose the Roomba that Best Fit Your Home in 2019. We focus here on maintenance. This is an important aspect, especially for pet owners, yet it is often overlooked.  Indeed, Roomba do the cleaning on their own. So, you can save time for stuff that matters, while your robotic servant takes care of vacuuming your home.
However, vacuum robots are not 100% autonomous. You still need to do some maintenance operations, such as emptying the dustbin. However, some Roomba require less maintenance than others, thanks to features we discuss in the following.
Which Features Matter for Maintenance?
– Basic vs Tangle-Free Main Brushes
Most affordable Roomba have a bristle brush and a smaller flexible rubbery one. These two counter-rotating main brushes tend to have hair strands entangled around. So, to ensure optimal cleaning performance, you need to get rid of the hair using a flat tool with a small blade provided with every Roomba. This maintenance operation is frequently required if you have dogs or cats with long hair, and more also during molting seasons.
To avoid spending time removing twisted hair, Roomba 780 and above have tangle-free brushes. Those are multi-surface rubber brushes that manage to pick up hair without having it entangled. These tangle-free brushes are definitely a must for pet owners.
– Large Dustbin vs Self-Cleaning
The 15 Roomba we have reviewed have dustbins with different capacities. Some are as low as 300 ml (~10 oz). While other Roomba have dustbins that can fit 650 ml (~23 oz) of dust, debris, and hair.
Pet owners and people living in large homes will have to often empty the Roomba's dustbin. It is impressive how much dirt does Roomba pick up. This is why we recommend larger dustbins.
There is something even better than a large dustbin. A Roomba that can empty its dustbin automatically. This is not science-fiction. Roomba i7 and i7+ can actually do it as shown in Video 1 below.
Video 1: Roomba i7+ Overview

Which Roomba is Best for Pet Owners?
To answer this question, we should consider multiple factors including maintenance. This is why we have a dedicated post that compares 15 Roomba with respect pet owners expectations. The conclusion of this review is that Roomba i7+ is definitely the best for our furry friends.
The Roomba i7+ has the highest suction power (1700 Pa), and adapts the height of its main brushes. These features make it very good at picking pet hair, even on carpets. Moreover, it requires little maintenance. On the one hand, its main brushes are tangle-free. And on the other hand, Roomba i7+ is shipped with a docking station that sucks the dirt from the dustbin, into a disposable bag. Just set it and forget it. It can operate without any maintenance for several weeks in a row.
Roomba i7+
Best for Pets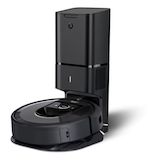 Buy Roomba i7+ from Amazon
– Best Value Roomba for Pet Hair
To dog and cat owners looking for a budget Roomba, we recommend Roomba 890. This mid-range Roomba costs less than half the price of a Roomba i7+. Although it has less suction power (900 Pa), it still does a good job cleaning hair even on carpets.
Regarding maintenance, Roomba 890 comes also with a set of tangle-free brushes. And, even if it does not support self-cleaning, its dustbin is the largest one among all 15 Roomba we have compared. It can contain up to  650 ml (~23 oz), which reduce the frequency you'll have to empty it.
Roomba 890
Best Value for Pets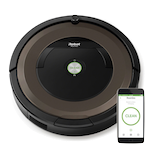 Buy Roomba 890 from Amazon
Many features impact cleaning performance. We compare how good are Roomba at cleaning different kinds of floors: hardwood, tiles, linoleum, or carpets. Read more
We've compared 15 Roomba for cleaning large areas. Best ones definitely have a long lasting battery. They also embed sensors and algorithms for smart navigation. Read more
The easiest Roomba to use, are WiFi enabled. You can control them from your couch using a smartphone app. You can also rely on voice command. Read more
Our review relies on 375 data points as well as the prices of each Roomba we have analyzed. We guide to choose a vacuum robot that best fits your home and your habits. Read more