Which Roomba to Buy in 2020? – Part 4: Ease of Use Rimes with Home Automation
This is the 4th part of our series of posts to help you Choose the Roomba that Best Fit Your Home in 2019. This time, we focus on ease of use, which is required since you will delegate the vacuuming chore to your Roomba. This means that Roomba should provide you with the most convenient solution to schedule cleaning. You choose when your Roomba should operate, and it will start cleaning on its own. And once done, it will automatically go back to its docking station to recharge. Roomba should also provide you with means to define places you want to clean, and others that you want to avoid. This solution should fit all user needs, in all kind of homes.
Easiest Way to Tell Roomba Where to Clean
– Beacons to Mark Boundaries
Sometimes, you want Roomba to clean first some high traffic area such as your kitchen, or avoid some spots such as your pet's bowl. All Roomba provide you with two basic features that help doing so. The Virtual Wall battery powered beacons emit infra-red light that signals to Roomba no-go lines (see Video 3).
Video 3: Roomba Virtual Wall Boundary Marker

– Spot Cleaning Mode
Along restricting access to some areas, all Roomba have a secondary cleaning mode. This is the spot mode that makes Roomba clean only a a 3 feet wide (~1 m) zone around its initial position (see Video 4).
Video 4: Roomba Spot Cleaning Mode

– Schedule When and Where to Clean On  Smartphone
Some Roomba can be controlled only using the onboard buttons. This is straight forward for simple actions such as start cleaning. But, the iRobot HOME smartphone app is more convenient for other tasks such defining a cleaning schedule.
The power of the smartphone app is actually unleashed with most advanced Roomba. You don't need to choose where to put the physical beacons for marking boundaries. You are not restricted with the hardwired area of the spot mode. Instead, you can define zones or rooms to clean based on a map of your home displayed on your smartphone by your Roomba. You can have a per-room cleaning schedule, so your Roomba will clean only specific areas at specific hours.
– Talk to Roomba
In our selection, 8 among the 15 Roomba we have reviewed are WiFi Ready, and can be controlled using a smartphone. All these 8 Roomba support voice command. Indeed, all connected Roomba robot vacuums are compatible with Amazon Alexa and Google Assistant. Actually, you don't talk directly to Roomba. Instead, your voice is processed by your smartphone, or a smart speaker such as Amazon Echo or Google Home. It is this device that then communicate with your Roomba, over WiFi, as shown in the Video 5 below.
With voice command, you can make your vacuum start cleaning, by saying: "Alexa, ask Roomba to start cleaning". Similar sentences allow to pause/resume/stop cleaning. Moreover, you can also ask the status of Roomba, make the Roomba go back to its docking station, or manage the schedule. You can find the full list of possible commands on the web page dedicated to iRobot Home skill for Amazon Alexa.
Video 5: Control Roomba Using Amazon Alexa

– Don't Forget the Noise
As a vacuum, Roomba is noisy. However, not all Roomba have the same noise level. This is a feature to consider, if you want to make Roomba operate while you are at home. Indeed, iRobot vacuum robots generate noise that ranges between 65 dB and 78 dB. This is equivalent to the difference between a TV audio and the sound of an alarm clock!
Roomba difference in noise level is caused by the difference in suction power, and rotation speed of main brushes. The material used of main brushes, as well as other parts such as bearings impact the amount of noise generated by Roomba.
Which Roomba is Easier to Use?
While all connected Roomba can be controlled via a smartphone or using voice command, they don't all have the same capabilities. One of the most convenient is zoning and per-room cleaning schedule. It is provided only on Roomba i7 and Roomba i7+.  Indeed, these two Roomba map your home, and can precisely compute their position. Better than an indoor GPS. If we consider the price Roomba i7 is the cheaper one, while having the exact same features that makes it easy to use. This is why it is the one we recommend here.
Roomba i7
Best for Ease of Use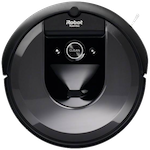 Buy Roomba i7 from Amazon
– Best Value for Ease Of Use
With the exception of the i7 and i7+, all other WiFi enabled Roomba share the same smartphone and voice command features. However, we found that the best value is provided by Roomba e5. Beside a low price, it is also the one that makes less noise, compared to all other Roomba.
Roomba e5
Best Value for Ease of Use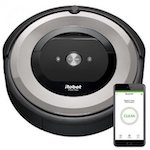 Buy Roomba e5 from Amazon
Many features impact cleaning performance. We compare how good are Roomba at cleaning different kinds of floors: hardwood, tiles, linoleum, or carpets. Read more
Dog and cat owners need a vacuum robot that is good at picking up pet hair. But, don't overlook maintenance. Check out which Roomba is best for pet owners. Read more
We've compared 15 Roomba for cleaning large areas. Best ones definitely have a long lasting battery. They also embed sensors and algorithms for smart navigation. Read more
Our review relies on 375 data points as well as the prices of each Roomba we have analyzed. We guide to choose a vacuum robot that best fits your home and your habits. Read more