Which Roomba to Buy in 2020? – Part 1: Cleaning Carpets & Hardwood
There is no doubt that the iRobot Roomba is among the best and most durable vacuum robots. Yet, it's not easy to pick one. Searching amazon we got 60+ different answers. There are indeed many Roombas on the market, with different features and accessories. There is also a wide range of prices: from $200 up to $1100.
This "Which Roomba to Buy?" is a 5 parts series that will help you choose the Roomba that best meets your needs. We focus on 15 Roomba that actually worth it. Those are the ones that have satisfied a large panel of users. To provide you with the best possible reviews, we have collected no less than 375 data points, based on criteria presented in our 2019 Vacuum Robot Guide.
The following, is dedicated to Part 1 of our series. We first discusses features that impact cleaning performance on different types of floors, including carpets and hardwood. Then, web build up on these criteria to select the 3 best among the 15 Roomba we have reviewed.
How to Compare Roomba Cleaning Performance on Carpets & Hardwood?
With regular vacuums, cleaning performance is mostly related to suction power. But, with vacuum robots, suction power is not the only characteristic to impact cleaning performance. In the following we discuss all the features that make a Roomba good at cleaning different kinds of floors: hardwood, tiles, linoleum, or carpets.
– Main Brush System
Most vacuum robots have a main brush underneath to loosen dirt and make it easier to suck. All Roomba do have a main brush system, made of two brushes. These are counter rotating brushes to maximize dust and hair pick up. Besides, some Roomba can adjust the height of their main brush system to adapt to the type of floor they are cleaning. So, for better performance, best Roomba raise the brushes on hardwood floors, and lower them on carpets.

– Edge Cleaning
Because Roomba are round, their main brush cannot collect dirt at the edges. Side brushes compensate by allowing Roomba to reach most dust and hair strands that are often located near walls and at corners.
– Dirt Sensor
It makes Roomba detect dirtiest spots, and spend more time cleaning them. Advanced combo-sensors are better than basic ones. They combine acoustics and optics to better detect dirt.
– Filter Type
The filter is located right at the exhaust of the robotic vacuum. This is why the filter type directly impacts the quality of air in your home. There are 2 kinds of filters for Roomba: basic and high-performance HEPA filter. Only the high-performance one can capture very fine particles, pollen, and dust mite.
Which Roomba is Best for Thick Carpets & Hardwood?
Best Roomba overall for cleaning all floors, including thick carpets and hardwood is the Roomba i7. It is the one with highest suction power. But, as explained above, other criteria are important too. And this high-end Roomba has it all. This is why it achieves best cleaning performance on all kind of floors. It is also excellent for fighting allergy, thanks to its high performance filter.
Roomba i7
Best for All Floors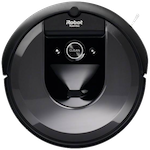 Buy Roomba i7 from Amazon
- Best Value Roomba for Carpets & Allergy
Roomba e5
Best Value for Carpets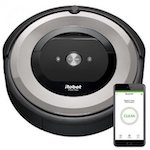 Buy Roomba e5 from Amazon
- Best Value Roomba for Hardwood
If your home has only slick floor such as hardwood, tiles, or linoleum, a cheap Roomba 690 is a good pick. Its suction power combined with counter rotating main brushes will do a good job. Combined with the side brush, it will remove all dust and hair. And, thanks to the advanced dirt sensor, Roomba 690 will spend more time cleaning dirtiest areas.
Roomba 690
Best Value for Hardwood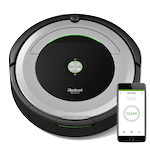 Buy Roomba 690 from Amazon
Dog and cat owners need a vacuum robot that is good at picking up pet hair. But, don't overlook maintenance. Check out which Roomba is best for pet owners. Read more
We've compared 15 Roomba for cleaning large areas. Best ones definitely have a long lasting battery. They also embed sensors and algorithms for smart navigation. Read more
The easiest Roomba to use, are WiFi enabled. You can control them from your couch using a smartphone app. You can also rely on voice command. Read more
Our review relies on 375 data points as well as the prices of each Roomba we have analyzed. We guide to choose a vacuum robot that best fits your home and your habits. Read more