How to Prioritize Wifi Networks on Your iPhone?
One of the nice features of your iPhone and  iPad is that it remembers all Wifi networks that they were connected to. So, next time you comeback to the same place, your device automatically connects to available Wifi. And because Wifi takes over 3G, you don't need to do anything except leaving your Wifi on, to get the fastest possible connection.
However, there's an issue that arises in locations where multiple Wifi networks are available. If at least two remembered networks are available at the same time, your iPhone picks only one. iOS relies simply on the alphabetical order of SSIDs (Service Set IDentifier associated with a 802.11 network) for selecting the one to pick. This can be annoying because all networks are not equal. Often people would like to specify a preference for Wifi networks. But, iOS does not provide any facility to specify priorities or preferences among Wifis.
Actually, this happened in our team. We have two Wifi networks, a primary one and a backup one. The problem is that our  iPhones and  iPads keep connecting to the backup Wifi which is slower. Indeed, the backup network SSID is BackupNooTriX while our primary wifi SSID is WifiNooTriX.
A simple solution would be to ask our admin change the network settings. He'd assign SSIDs in an alphanumerical order that matches the desired network priorities. Although this solves our problem, it does not apply all the time, especially when one cannot change the network. A cleaner solution should only impact the device settings.
Searching on the Internet, we found out that there are plenty of people facing the same problem. But, after an hour or so crawling the web, it turned out that no solution is available. Even on important forums such as on MacRumors. A thread discussing this issue on Apple's site ends with a proposal to send feedback to iPhone developers. Since this disucussion on Apple's forum dates back to 2010, it seems that adding this missing feature is not on the todo list of the iPhone team.
Fortunately, we figured out a work around that we want to share with you.  The idea is to allow automatic connections only to the favorite networks. We still can connect to the other remembered networks, but the iPhone will ask you if you want to connect to them if the favorites are not available.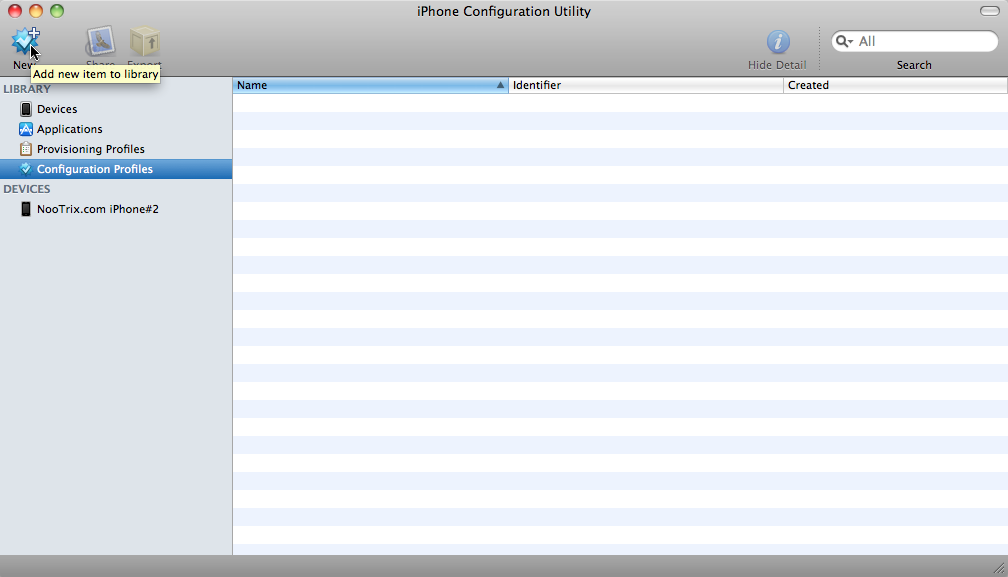 Picture 1 : Adding an new Configuration for iPhone
To achieve this, we rely on the iPhone Configuration Utility. After starting this Apple software, select Configuration Profiles and add a new one as shown on Picture 1. Then, define the profile's identity (see Picture 2).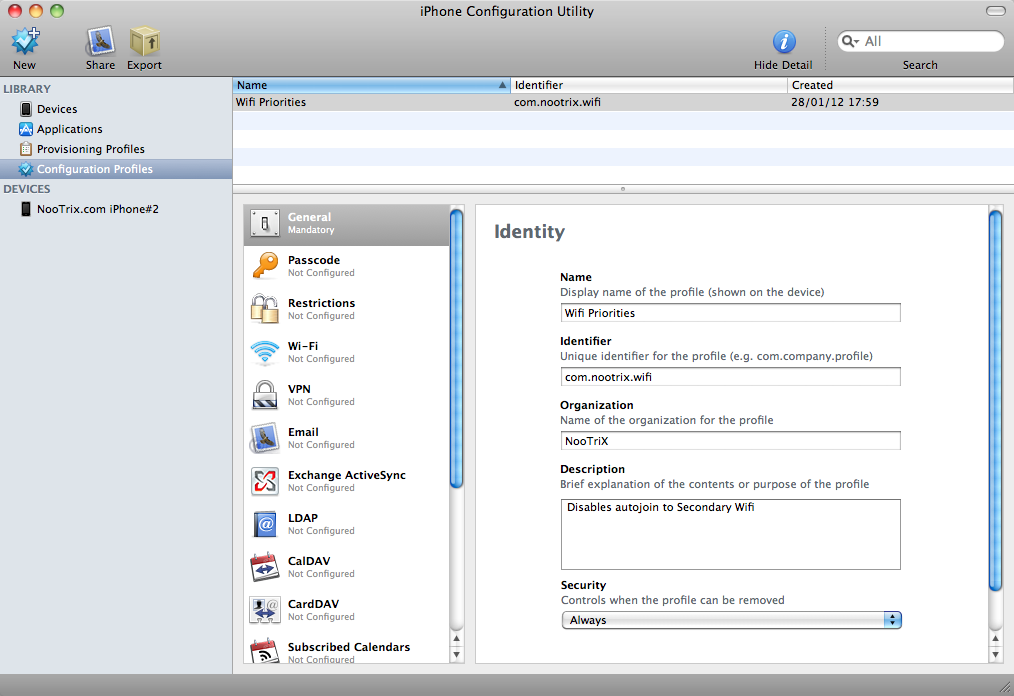 Picture 2 : Defining Profile's Identity
Next, go to the Wi-Fi section and add a new network configuration (see Picture 3).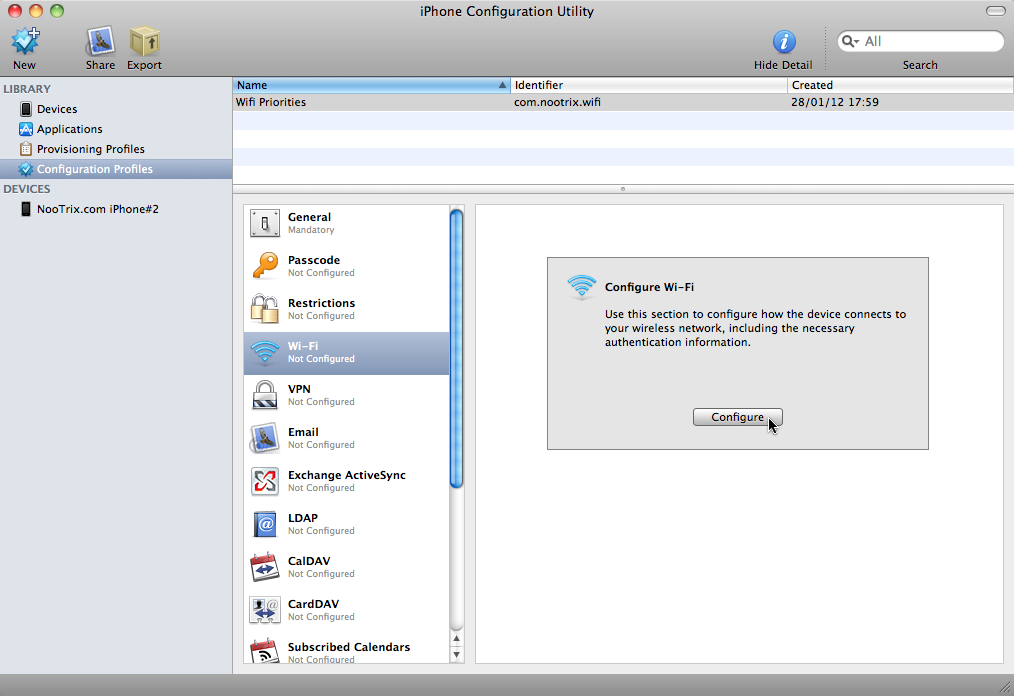 Picture 3 : Adding a New Network Info
You'll be able then to define your secondary network info, that is the one with a low priority (see Picture 4). In our case, this is the BackupNooTriX Wifi. Be sure to keep Auto Join unchecked.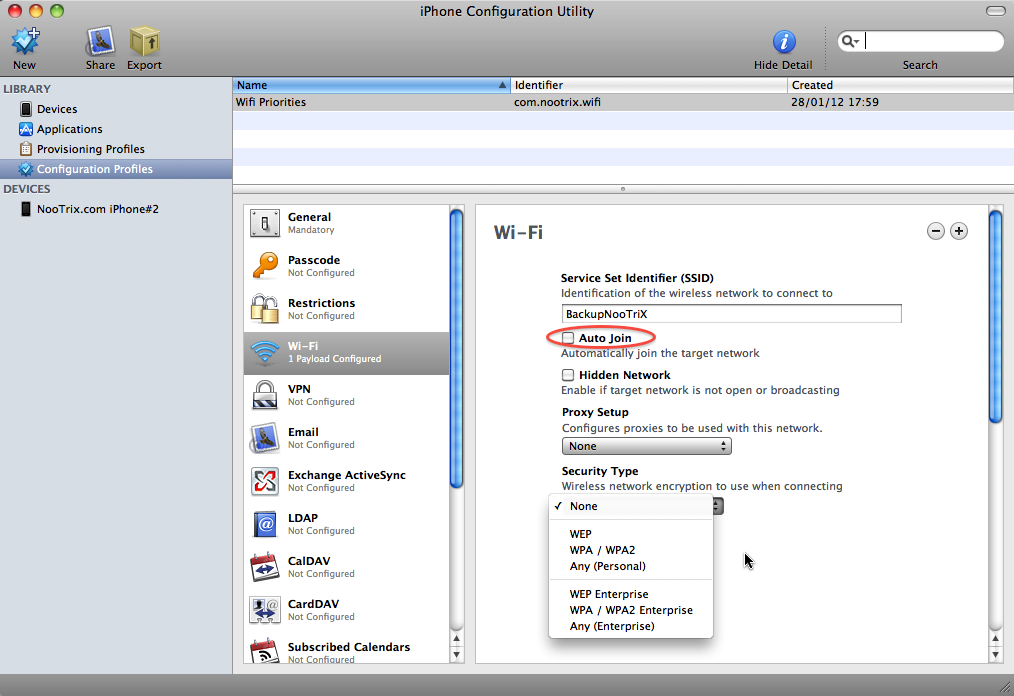 Picture 4 : Defining Secondary Wifi Info
Now we are ready to transfer the profile to the iPhone. Once you connect your device by USB, it will show up on the left pane. Select the target device, then choose the "Configuration Profiles" tab as shown in Picture 5. You'll see all available configurations. The one already on your smartphone have a remove button on the right. Our new profile ("Wifi Priorities") has an install button next to it. Click it to transfer the configuration to the iPhone.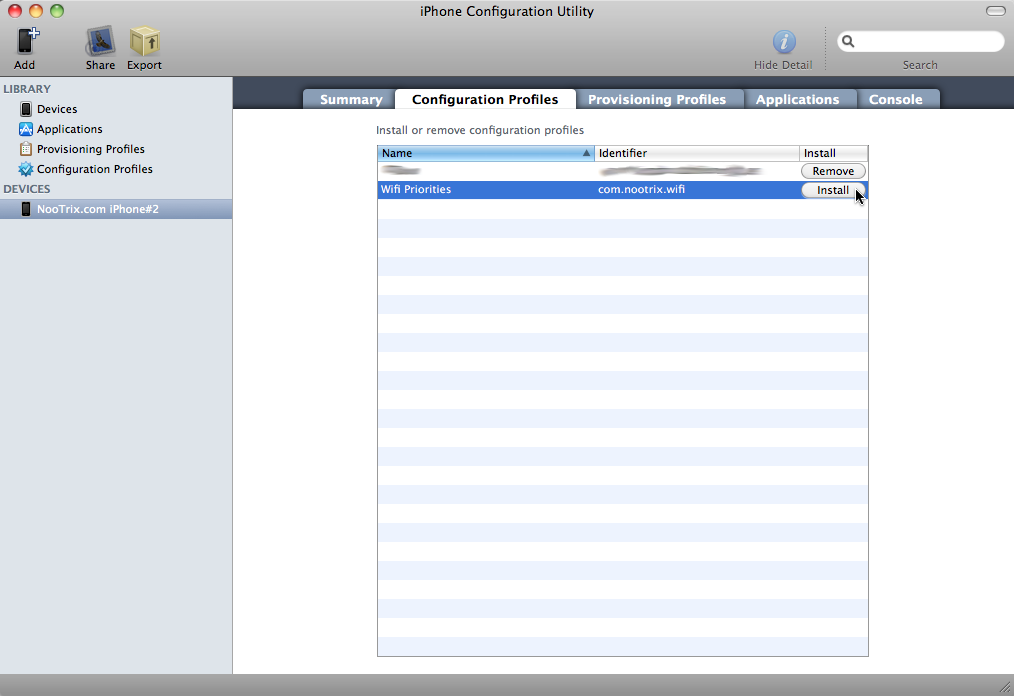 Picture 5: Installing the Configuration Profile on an iPhone
Your iPhone should be unlocked, otherwise you'll get a popup window requesting you to type in your pin. If the install is triggered, the iPhone's display will look like Picture 6.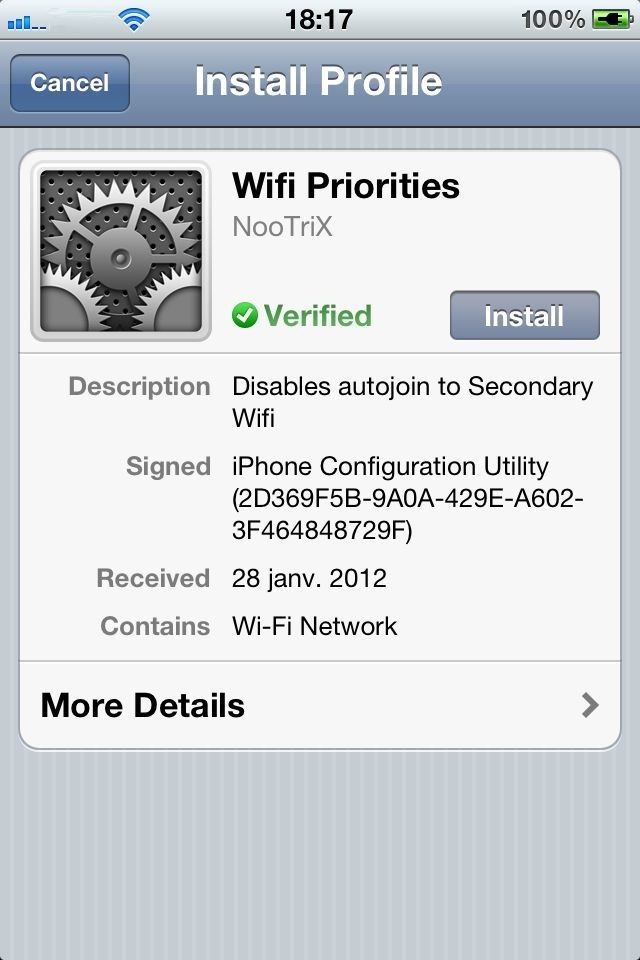 Picture 6: Install Profile View on the iPhone
Tap on the the install button on the iPhone, then confirm that you want to install now (see Picture 7).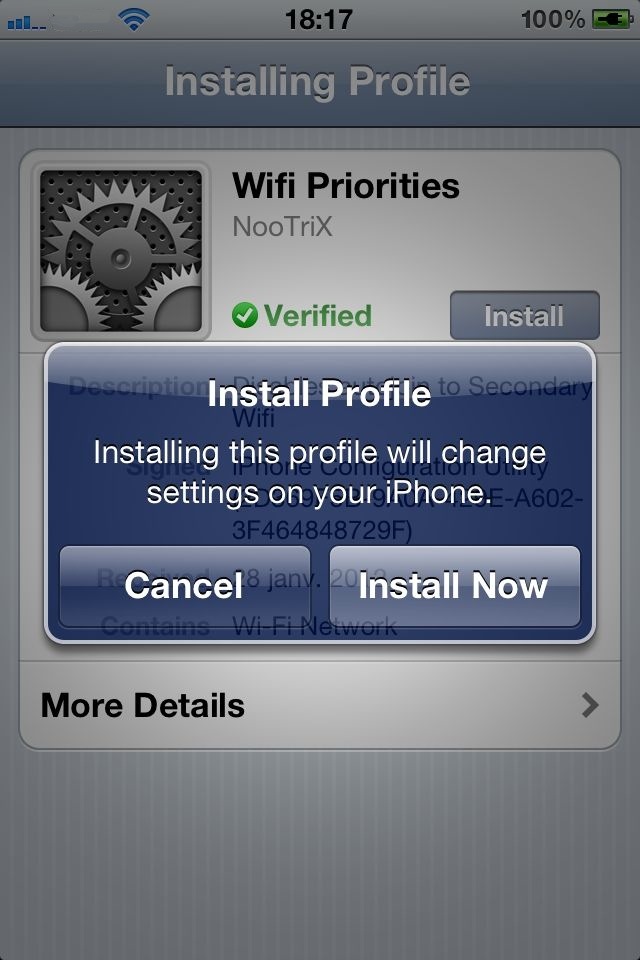 Picture 7: Confirm Profile install
Time for tests! Go to the Wifi settings of your iPhone, and select the secondary Wifi network (BackupNooTriX in our case). Next, turn the Wifi off then on. Your iPhone will automatically select the primary Wifi network (WifiNooTriX in our case). Problem solved :-)