Review of the Self-Cleaning Roomba i7+ vs Roomba i7: Pros and Cons
The table below lists the specifications of the Roomba i7 and i7+. We can see that the two vacuum robots are identical, except for one feature. While both vacuum robots support self cleaning, only the i7+ is shipped with a self cleaning base.
The base contains a vacuum pump that sucks out the dirt and transfers it to a disposable bag. It connects to the vacuum robot through an evacuation port, which is available on the Roomba i7. So, owners of the Roomba i7, can buy the base later, and it will work just fine. 
Specs of Roomba i7 & Roomba i7+ Cliff SensorYes Flat FrontNo High Performance FilterYes Brush Adaptive HeightYes Recharge & ResumeYes SchedulingYes Selective Room CleaningYes Self ChargingYes Smartphone AppYes Systematic NavigationYes Battery Runtime75min Dustbin Capacity460ml Multi-Floor Maps10pcs Side Brushes1pcs Suction Power1700Pa Noise Level68db Boundary MarkerVirtual Boundary Dirt SensorAdvanced Main BrushTangle Free Voice CommandGoogle Assistant, Amazon Alexa Self Cleaning ReadyYes Self Cleaning DockOnly with the Roomba i7+
The table below lists scores of Roomba i7+ and Roomba i7, regarding 3 different perspectives:
Pets & Allergy: If you have pets or some member of your family is allergic, you need a vacuum robot that picks as much hair and dust as possible. Cleaning should be efficient even with thick carpets. From this regard, both the i7 and the i7+ achieve a very  good score: 85%.
Large Homes: A good vacuum robot for a large home, should quickly clean a wide area. It should have refined scheduling, and should easily deal with multiple floors. Again, Roomba i7+ is very good with this regard. The i7 falls a bit behind. This is because only Roomba i7+ supports self cleaning. It compensate for the small dustbin, and reduces maintenance. The Roomba i7+ can perform several cleaning cycles in a row.
Affordability & User Satisfaction: Both vacuum robots are bad from this perspective. This is because of their price. Roomba are traditionally more expensive that other robotic vacuum brands. But, the Roomba i7+ comes with a cleaning base that is basically a second fixed vacuum. This unique feature makes the i7+ significantly more expensive than most high-end vacuum robots.
Affordability & User Satisfaction
Affordability & User Satisfaction
Overall Scores and Recommendations
Roomba i7+ is a good high-end vacuum robot scoring 3.9 out of 5. It does an excellent job cleaning all kinds of floors, carpets and hard floors alike. Its dual rotating main brushes combined with a patented dirt sensor and a high suction power makes it a very good pick for pet owners. The high-efficiency filter captures 99% of fine particles responsible of allergies.
The i7+ is easy to operate either via voice command, or with the iRobot HOME smartphone  app. It support scheduling, and you can select which room to clean and when. Last, its self-cleaning capability is a game changer. Even if the price tag is high ($1300), this self-cleaning feature alone makes Roomba i7+ ideal for large homes. Just set it and forget it.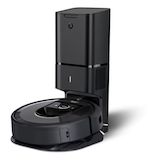 Buy from Amazon
Roomba i7+
Roomba i7 overall score is 3.7 out of 5, very close to Roomba i7+. Indeed, they have exactly the same features, with one notable exception. The docking station shipped with Roomba i7 is for charging only. Unless you plan to buy the cleaning dock later, we recommend to pick Roomba 980 instead. You will save $300 and get a vacuum robot that is better for large homes.
Buy from Amazon
Roomba i7
Buy from Amazon
iRobot Roomba 980