What is the Best Vacuum Robot for Large Homes ?
Cleaning a large home is a task that only some vacuum robots can efficiently tackle. Indeed, to clean a large home, a vacuum robot should be able to move from one room to the other. It should also be capable to clean a large area in a single cycle. In the following, we discuss existing vacuum robot features that address these requirements.
Vacuum Robots to Clean Multiple Rooms
Having many rooms is not an issue. Vacuum robots can go from one room to the other. Of course doors should be open. Besides, vacuum robots can deal with thresholds, that are less than half an inch high (approx. 1.3 cm). Main wheels of vacuum robots are mounted on springs. Hence, they can go over flooring transitions.
Vacuum Robots In a Home With Stairs
Stairs is a challenge you need to consider when choosing a vacuum robot. Vacuum robots are smart enough to avoid falling down the stairs or tumbling over drop-offs. However, they cannot go from one floor to the other. Of course, you can carry your robot up and down the stairs. But, there are other smarter alternatives, relying on some recent innovations.
Max Cleaning Mode for Large Areas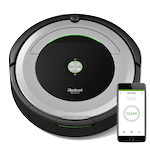 Buy from Amazon
Roomba 690
Beside having a multi-story home, the other challenge is the area that your vacuum robot should clean. Bigger homes require powerful vacuum robots to cover all the floor. Low-cost vacuum robots such as the Roomba 650 feature a Max cleaning mode. They continue cleaning until they run out of battery.
The area actually cleaned with the Max cleaning mode depends on the battery capacity. Obviously, a large battery capacity allows vacuuming large areas. Depending on the brand, a single charge lasts from 60 to 120 minutes. This is definitely a feature to consider while choosing your vacuum robot.
Large Battery Capacity is Not Enough
Having a large battery is not always enough to cover all your home. This is especially true with robots that move randomly. The better option is go for vacuum robots that map the house such as the Roomba 980 or the Neato botvac D7. They are capable of remembering which areas were cleaned and which ones left. When the battery is low, a such robotic vacuum goes back to recharge, then resumes cleaning where it stopped.
Dirt Bin Size and Self-Cleaning
It's always impressive to see how much dust and hair is collected by a vacuum robot. Even if the floor seems clean. So, in large homes, the dirt bin will quickly fill up. You'll face the situation for sure if you have cleaning scheduled. The vacuum robot is will suspend cleaning until you empty its bin.
Luckily, Roomba i7+ introduces self-cleaning. The docking station sucks the dirt from this Roomba's dirt bin into a disposable bag. Just set it and forget it. The i7+ can auto-empty its dirt bin up to 30 times.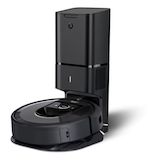 Buy from Amazon
Roomba i7+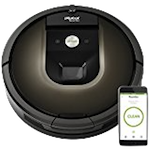 Buy from Amazon
Roomba 980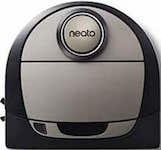 Buy from Amazon
Neato Botvac D7 Connected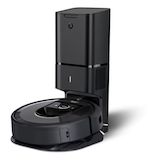 Buy from Amazon
Roomba i7+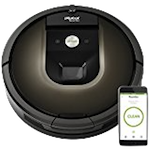 Buy from Amazon
Roomba 980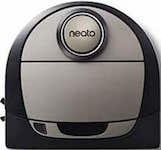 Buy from Amazon
Neato Botvac D7 Connected