Which Robot Vacuum is Best for Pet Hair?
A vacuum robot is a good idea to collect pet hair. You'll be surprise how much your vacuum robot will pick up. In the following, we discuss features that make a vacuum robot best suited for dog and cat owners. Such vacuum robots combine cleaning performance, and low maintenance.
Choose a Vacuum Robot That is Efficient at Collecting Pet Hair
Good brands make vacuum robots that combine rotating brushes with suction. Cleaning performance depends on brushes size and positions, as well as suction power. Wide brushes reach dust and pet hair, that are ultimately sucked by the vacuum robot.
The shape of the vacuum robot also matters. While most brands make round robots. But, others such as Neato Robotics take a different approach. These robots such as Neato Botvac D7 Connected have a flat front. It allows better reaching hair that accumulate close to the walls.
Don't Forget Maintenance
Keep in mind that some vacuum robots require more maintenance than others. Some vacuum robots might be good at collecting pet hair. But, you might have to manually remove hair stuck into the rotating brushes. To avoid this situation, choose a vacuum robot with tangle-free brushes. Some Roomba such as the 980 provide counter-rotating brushes. Hair is sent to the bin instead of getting twisted around these brushes.
The last part of vacuum robot maintenance is emptying its dirt bin. You might end up doing it frequently if you have many pets, or ones with long hair. Especially when your dog or cat moults. Luckily, there exist self-cleaning robotic vacuums. They automatically empty there own dirt bin. Video below shows the Roomba i7+ the first vacuum robot capable of self-cleaning.
Recommended Vacuum Robot for Pet Hair
Currently only the Roomba i7+ meets all the above requirements. It efficiently collects all pet hair thanks to its brushes and powerful suction. It also minimizes maintenance thanks to its tangle-free bruses. It is the only vacuum robot to automatically empty its dirt bin.
The only cons to the Roomba i7+ is its price. It costs about $1300. There are cheaper alternatives, that do as good as the i7+ except they miss self-cleaning. Those are the Roomba 980 and the Neato D7. They both achieve very good at picking hair and cleaning carpets. But, Neato Botvac D7 Connected is superior to Roomba 980 featurewise.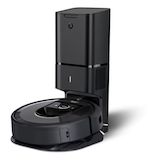 Buy from Amazon
Roomba i7+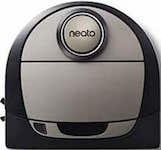 Buy from Amazon
Neato Botvac D7 Connected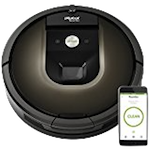 Buy from Amazon
Roomba 980