Best High-End Vacuum Robot for 2017: Neato Botvac D5 Connected
Update
The Best Neato is now the Botvac D7 Connected
Check it out!
The Botvac D5 Connected vacuum robot by Neato robotics is the best high-end vacuum cleaner robot for 2017. It is even better than the iRobot Roomba 980. In this post we analyze all the features that makes the D5 the finest robotic vacuum cleaner.
The D5 belongs to the Connected series, since it is Wifi enabled, and works with Amazon Alexa, Google Home, Neato Chatbot, as well as IFTTT. That is, you can control your vacuum robot by voice commands and have audio feedback.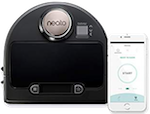 Buy from Amazon
Neato Botvac D5 Connected
The other specificity of Neato robots is the laser-based mapping and navigation. The embedded laser range sensor enables real-time object detection scans and maps the room, plans, and methodically cleans-instead of just bumping around.
The high capacity battery allows covering large areas on a single charge. The Lithium-Ion technology introduced in the Connected series makes also the battery more durable compared to older ones made of Nickel Metal Hybrid.
Another interesting feature of the Botvac Connected D5 is its two cleaning modes: Eco and Turbo. Eco gives a longer, quieter energy-saving clean. This is the mode to use for cleaning while you are around. The Turbo mode provides a super-powered cleaning-with maximum hair pickup. Great for homes with pets and allergies.
The passive boundary markers is another feature we like in Neato robots. Passive means that no battery is required. Green and maintenance free. The robotic vacuum embeds sensors to detect the markers and avoid areas that you don't want to clean.
Video 1: Overview of the Neato Botvac Connected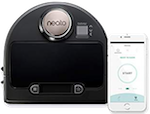 Buy from Amazon
Neato Botvac D5 Connected