Roomba 690 vs. Roomba 675 – Do These Cheap Roomba Worth It?
Roomba 690 and 675 are the two cheapest Roomba still supported by iRobot. They belong to the 600 series presented in the video below. In this review we compare their respective features, and we evaluate their performance. Beyond merely listing their differences, our goal is to find out for which homes they are most suitable.
From the table below, we can see that Roomba 690 and Roomba 675 are two very similar vacuum robots. These are improved versions of the all time best seller older Roomba 650.
The most prominent change is the WiFi connectivity that makes it even more easier to control Roomba 690 and 675. You can schedule and monitor cleaning using the HOME mobile app. This iRobot app is available on iPhone as well as on Smartphones running on Android.
Besides, Roomba 690 and Roomba 675 do integrate nicely with Amazon Alexa or Google Assistant, if you have one. So, you can just speak up and your Roomba will obey. It will also send you voice notifications.
Specs of Roomba 690 vs Roomba 675 Systematic NavigationNo Dirt SensorBasic Dustbin Capacity300ml High Performance FilterNo Smartphone AppYes Boundary Marker1 Beacon (Roomba 690 only) Battery Runtime90min Flat FrontNo Self ChargingYes Suction Power600Pa Cliff SensorYes Selective Room CleaningNo Side Brushes1pcs SchedulingYes Voice CommandAmazon Alexa, Google Assistant Self CleaningNo Recharge & ResumeNo Main BrushBasic Multi-Floor MapsN/A Noise Level72db Brush Adaptive HeightNo
The video below gives a detailed presentation of the Roomba 690, and its accessories. Everything applies to the Roomba 675 with a single exception. Only the 690 is shipped with a Virtual Wall beacon. It allows marking areas that the vacuum cleaner should avoid, such as the bowl of your pet.
Although cheap, Roomba 690 and 675 have a sturdy build, that is the hallmark of iRobot vacuums. The patented dirt sensing technology is also one important feature that allows Roomba switch to intensive cleaning mode whenever required.
The  battery lasting up to 90 min (sometimes more!), is definitely a pro. It is counter balanced though by the inefficient random navigation pattern. Indeed, these low-end Roomba are unable to localize. They move without method, bouncing on walls and furniture.
The last disadvantage we'll highlight from the following list is the noise level. Roomba 690 and 675 are loud (up to 72 db). Luckily, since they are autonomous,  you don't have to stay home while they operate. Their scheduling feature allows triggering cleaning at times where you are away. 
Overall Scores and Recommendations
Roomba 675 is unsuitable for pet owners, or people suffering from allergy. The small dustbin, the low suction power, and the basic filter all contribute to the very bad score: 20%. Better go for the Roomba e5 that is much better with this regard.
For large homes, the 675 is not a good fit either. Its very good battery autonomy (90 min), is partially wasted by random navigation. Unlike high-end Roomba such as the 960, Roomba 675 cannot recharge and resume cleaning, since is is unable to localize accurately.
Having said that, Roomba 675 is still a good pick for smaller homes, given its price ($300). It does a good job cleaning hard floor, or only thin carpets, hence the good 70% score.
Affordability & User Satisfaction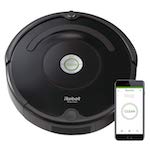 Buy from Amazon
Roomba 675
All what we have said above about Roomba 675 also applies to Roomba 690. The slight score differences are because of the Virtual Wall boundary marker shipped with the 690. This is why we recommend Roomba 690 over Roomba 675.
The price tag difference  is less than the actual price of a Virtual Wall beacon ($70). You can always live without it, but it does make your life easier.
Affordability & User Satisfaction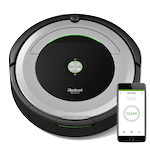 Buy from Amazon
Roomba 690