Best Cheap Roomba Vacuum Robots in 2020 – Part 1: Features Comparison
– Proximity Sensor
Every Roomba is equipped with a hard bumper. This sensor allows the robot to detect obstacles such as a wall or furniture. When it runs into something it turns and moves away. The 6 Roomba we compare here embed a hard bumper. That means that they don't stop if it faces a light object. For example, they can push shoes or curtains that might get in their way. This is no big deal, unless you have fragile furniture.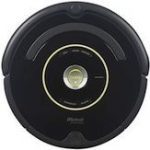 Buy Roomba 650 from Amazon
– Boundary Marker
The last feature related to hazard avoidance is the
boundary marker
presented in Video 2 (below). We can see from Table 1 that only 4 cheap Roomba (Roomba 630, 
Roomba 650, Roomba 652
, and
Roomba 690
) are shipped with one iRobot
Virtual Wall
. However, these battery powered beacons are sold separately. So, Roomba 614 and Roomba 675 owners can buy them later.
– Dirt Sensor
This unique Roomba feature allows it to detect dirtiest areas and spend more time cleaning them. There are two kinds of dirt sensors: basic and advanced. Roomba 614, 630, 650 and 675 all have the basic acoustic sensor. While the
Roomba 552
and
Roomba 690
have the advanced combo sensor.  It combines an optical and an acoustic sensors for better dirt perception- .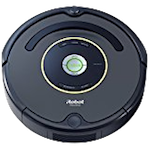 Buy Roomba 652 from Amazon
– Self-Cleaning
Self-cleaning currently means that the vacuum robot is capable to automatically empty  its own dustbin. None of cheap Roomba can do so. But, this is the case of almost all other robotic vacuums on the market. There is only one notable exception so far: the latest Roomba i7+.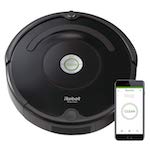 Buy Roomba 675 from Amazon
– Recharge & Resume
This feature allows to cover homes that are larger than the maximum area that a vacuum robot can cover on a single battery charge. Whenever the battery is low, the robot goes back to its dock, recharges the battery, before resuming cleaning. For this to work, the robot should be able to have a map of your home and be able to precisely tell where it stopped. Unfortunately, no cheap Roomba has this feature. So, all the cleaning they can do, must be performed on a single charge.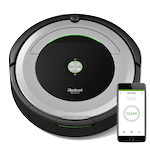 Buy Roomba 690 from Amazon
The iRobot HOME app provides options to manage the Roomba, its schedule, and its cleaning history. However, it works only with robots have a wireless connectivity. Unfortunately, Roomba 614, Roomba 630, Roomba 650, Roomba 652 don't have any networking capabilities. Only Roomba 675, and Roomba 690 are WiFi enabled, and can benefit from the app.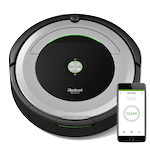 Buy Roomba 690 from Amazon
Renaming is also useful if you have more than one connected Roomba in the same home. For example, suppose you have two Roombas, one named Rosie and the other named Alfred. The command "Alexa, ask Rosie to schedule cleaning" will change only Rosie's schedule. While, the command "Alexa, ask Alfred to go home", will make only Alfred go back to its dock.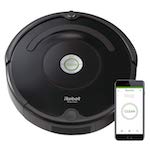 Buy Roomba 675 from Amazon