Roomba s9+ Review: The iRobot Top Robot Vacuum
Roomba s9+ is the new 2019 flagship robot vacuum robot by iRobot. The most obvious change is the dramatic shift in the design with the introduction of flat front. But, there are other hidden features that we will be discussing in this review.
Video 1 below provides a quick overview of the self cleaning Roomba s9+ features that directly impact cleaning performance starting with the main brush system. It is made of  two multi-surface counter-rotating rubber brushes. They are efficient are picking up dirt and pet hair on both hard floors and carpets.
We've already pointed out the new flat front design. It allows s6+ better clean corners. The corner and edge cleaning is further more improved thanks to the side brush redesign.
The Roomba s9+ also provides deeper carpet cleaning compared to all previous Roomba. This is achieved thanks an increased suction power. 
Last but not least, the s9+ also has a high performance filter. It captures 99% of fine particles responsible of allergy such as pollen and mold.
Video 1. Overview of iRobot Roomba S9+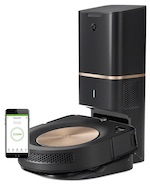 Buy Roomba s9+ from Amazon
30% Wider Cleaning Area
Roomba s6+ new shape does not only enhance corner cleaning, it also speeds up the whole cleaning process. As shown in Video 2 below, the main brushes are wider compared to those of older Roomba. They are located at the front of the robot vacuum, where there is more width. The s9+ then covers a 30% wider area on a single pass.
Automatically Empties Dust Bin
The new design also makes room for a bigger dust bin (550ml) that is easy to remove and clean. Though Emptying the bin is something that the Roomba s9+ takes care of on its own, thanks to its self cleaning dock. The robot vacuum returns to its dock and empties its dust bin after every cleaning session. The dock includes a bag that can contain dirt collected by Roomba during 30 sessions. Combined to the scheduling function, you can just set the s9+ and forget it for weeks.
Auto-Adjust Suction Power for Optimal Pick Up and Battery Life
The Lithium Ion battery can last up to 120min on low power mode. This mode allows Roomba be quiet, but minimizes suction power. However, there is an Auto mode where the s9+ adjusts its suction power to the type of floor. It switches to max suction to deeply clean carpets, and ramps down on hardwood or tiles. The cleaning results shown in Video 2 below are impressive, with an average of 94.5% pick up of sand on carpets. This is an all time best!
Excellent at Hair Pick Up
Picking up hair is an challenging for vacuum robots because of two reasons. First, the exhaust of the vacuum might blow hair away to spots already cleaned. Second, hair strands often get twisted around vacuum robots brushes. Roomba s9+ successfully deals with both issues. The tangle free brushes minimize maintenance. Besides, the exhaust design is wide, dramatically reducing the strength of expelled air.
Systematic Navigation Combined with Recharge & Resume
Roomba s9+ cleans one room each time, following a natural path, as one might do with a regular vacuum. The onboard camera accurately maps your home and localize the cleaning robot. So, the s9+ can find its way back to its station once done cleaning. In large homes, if the Roomba s9+ is low on power, it recharges its 120min battery, then resumes its cleaning where it left, all by itself.
Per Room Scheduling and Voice Command
The iHOME companion smartphone app allows to schedule cleaning, and chose which room to clean each room. It is also compatibile with Amazon Alexa and Google assistant. So, you can control the s9+ via voice command.
Video 2. Review of iRobot Roomba S9+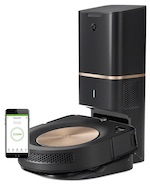 Buy Roomba s9+ from Amazon
The First Vacuum Robot with Collaborative Cleaning
Roomba s9+ has been released along with the m6, the new Braava jet robot mop. This is no coincidence, since the two cleaning robots team up, as shown in Video 3 below.
On the iRobot HOME app, just tell Roomba s9+ and Braava jet m6 which Rooms to clean. Thanks to the iRobot Imprint Link Technology, they can talk to each other. Roomba s9+ goes first, and does the vacuuming. When it is finished, it goes back to its dock and tells Braava jet m6 to begin mopping.
Video 3. Roomba s9+ Teams up with Braava jet m6 to Clean Your Home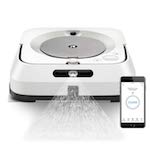 Buy Braava jet m6 from Amazon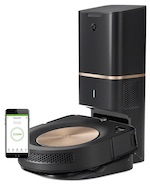 Buy Roomba s9+ from Amazon
iRobot Braava m6
Likewise Roomba s9+, Braava jet m6 robot mop has a square shape that allows for a better reach. Ideal for cleaning corners and edges. It carries water in a tank located at its center. Video 4 shows how it operates.
Upon cleaning, the m6 sprays a little water in front of itself. Then, it rubs the floor using its pad. This process is repeated until covering all hard floor of your home. The amount of water sprayed each time can be adjusted, depending whether you have hardwood, tiles or linoleum floor.
Video 4. iRobot Braava jet m6 Robot Mop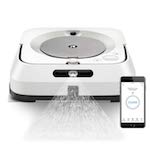 Buy Braava jet m6 from Amazon
iRobot Plans for More Collaborative Robots
The collaboration between Roomba s9+ and Braava jet m6 is just a first stepping stone in iRobot plans. As presented by Colin Angle, chairman, CEO, and founder of iRobot, their strategy is centered around smart homes (see Video 5 below).
All iRobot recent housekeeping including the s6+ and Braava jet m6 are all WiFi connected. They can be controlled by voice command using Amazon Alexa and Google Assistant. But, Colin Angle announces that they want to go further in home automation, by integrating with all devices in a home. A fleet of robots will assist people in their everyday life and take care of chores. The goal is to extend independent living for the aging population. Robots will be present not only inside the home, but also in the garden. iRobot announces its new Terra robot lawnmower​.
Video 5. iRobot CED on Roomba S9+ and Home Automation for Extending Independent Living for Elderly People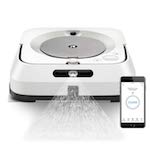 Buy Braava jet m6 from Amazon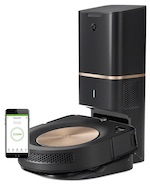 Buy Roomba s9+ from Amazon