Roomba s9+ vs Neato D7 Botvac Connected: Comparison of Top Vacuum Robots
In this review we compare the self-cleaning Roomba s9+ to the Neato D7 Connected. These are current top flagship robot vacuums by the two major makers in the industry. On the one hand, there is iRobot who pioneered the market with Roomba, famous for their build quality and durability. And on the other hand, there is Neato Robotics which was the first to introduce many innovations such as the flat front or laser-based systematic navigation.
The main differences between the Roomba s9+, and the Neato D7 are summarized by Video 1 below. We go a step further and analyze how the s9+ and the D7 compare based on criteria  define in our vacuum robots guide. We review their performance for different uses, on multiple floor types, and homes sizes. We also report users first impressions of Roomba s9+ with respect to reviews of Neato D7.
Video 1. Roomba s9+ vs Neato d7 Comparison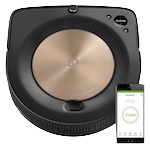 Buy Roomba s9+ from Amazon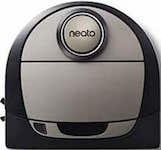 Buy Neato D7 from Amazon
Cleaning Performance Per Floor Type
As we can see from Table 1 (below), both vacuum robots are equally good on all kinds of hard floors such as hardwood, tiles, and stone. The results are near to perfect. Thanks to the combination of flat front, with a side brush rotating at the right speed, these robot vacuums collect all the dirt that might accumulate along walls or at corners.
Table 1. Roomba s9+ vs Neato D7 Cleaning Performance
for Different Floor Types
On carpets, both vacuum robots ramp up their suction power. However, Roomba s9+ has a higher suction power combined with a lower main brush system, allowing for deeper carpet cleaning. Although  Neato D7 does a very good job cleaning rugs and carpets, it is far behind the s9+.
In homes with different kinds of floors, the s9+ still does significantly better than the Neato D7. The conclusion is obvious. If you want the best cleaning performance on all types of floor, go for the Roomba s9+.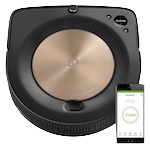 Buy Roomba s9+ from Amazon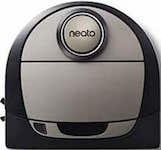 Buy Neato D7 from Amazon
Dealing with Large Homes and Multi-Storey Houses
Since Neato D7 and Roomba s9+ are two high-end robotic vacuums, it is no surprise that they get maximum score on cleaning small homes (see Table 2 below). Both robots can efficiently find their way around the home and clean all rooms. They can go over threshold up to 3/4 inches high. Besides, their battery capacity up to 120 min in low power mode is ideal.
Table 2. Roomba s9+ vs Neato D7 Cleaning Performance
for Different Home Sizes
In large homes, both Neato D7 and Roomba s9+ have excellent scores thanks to different features. The first and most important one is their ability to map your home and compute their path to clean each spot once. This systematic navigation allows for saving battery and covering a large area on a single charge. The D7 as well as the s9+ do also optimize battery usage by adapting suction power to the type of floor they clean. Last, since they can localize themselves, these robots can recharge and continue cleaning until the whole home is done.
Regarding multi-storey homes, both  vacuum robots store maps for later use, to speed up cleaning. However, the s9+ does better since it can remember up to 10 floor plans. The D7 can only store 3 maps, though this is often enough.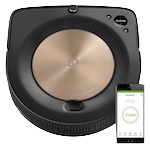 Buy Roomba s9+ from Amazon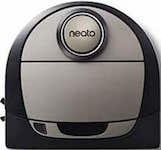 Buy Neato D7 from Amazon
Efficient Pet Hair Pick Up
One of the reasons to get a vacuum robot is to automate cleaning pet hair. Dogs and cats owners will enjoy these vacuum robots (see Table 3). Indeed, having a vacuum robot with low maintenance is key to actually save your time. Otherwise, you will spend time cleaning hair stuck in the brushes or emptying the dustbin.
Both Roomba s9+ and Neato Botvac D7 Connected have tangle free main brush systems. This ensures a high pick performance by minimizing the amount of hair strands that get twisted around the brushes.
Thanks to their large dustbins, these two robots reduce the amount of time you need to spend on maintenance. Neato D7 does better on this feature. It's dust bin volume is 700 ml. The one of the s9+ is smaller with its 550 ml. However, this is counter balanced by the automatic dirt disposal. The s9+ comes with a dock that sucks out dirt from the vacuum robot dustbin into a disposable bag. The bag remains on the dock, and can hold up to 30 bins. This self-cleaning is game changing. It makes Roomba s9+ score better than Neato D7.
There is a last feature that also contributes to make Roomba s9+ the winner of this round. This is the exhaust of s9+. It is wider than the one of the D7 which reduces the speed of air flow, and avoids blowing away hair.
Table 3. Roomba s9+ vs Neato D7 Cleaning Pet Hair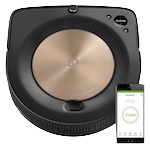 Buy Roomba s9+ from Amazon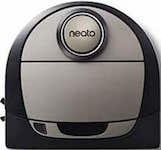 Buy Neato D7 from Amazon
In average, users are equally satisfied with Neato D7 and Roomba s9+. Indeed, both vacuums score 3.7 out 5 on user satisfaction. However, when digging a bit more in details (see below), we can see that the distribution of votes is different. 70% of Roomba s9+ are totally satisfied and give it 5 stars. This ratio drops down to 52% for Neato D7.
Roomba s9+ is best on all facets we have reviewed. Regarding cleaning performance, it scores better than Neato D7, on kinds of floors. The s9+ is also superior when dealing with large homes. Besides, it does a better job picking up pet hair. Another aspect we didn't elaborate is the ability of Roomba s9+ to collaborate with the robotic mop iRobot Braava jet m6. Last, both vacuums have the same average user satisfaction score. But, the proportion of 5 stars is significantly higher for the s9+.
Roomba s9+
Best Overall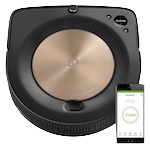 Buy from Amazon
Although Roomba s9+ is the overall best, the flip side of the coin is the cost of its innovations. The s9+ is significantly more expensive than the D7. Almost the double price! The ratio of the overall performance by the price, makes the Neato the best value vacuum robot of this comparison.
Neato D7
Best Value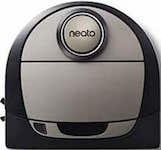 Buy from Amazon